Clever Cutter 2 In 1 New Food Chopper Clever Cutter - 3pcs
Description:
Wonderful! Every kitchen must have this multipurpose kitchen tool.
Buy 2pcs on a discount price!
The clever cutter is a 2in1 knife and cutting board. It is a revolutionary tool that cuts your veggies in seconds.
Deluxe Clever Cutter comes with premium stainless steel blade. Combination food chopper and carving board makes cutting, slicing and dicing easy and fast. Stainless steel blades work as a great vegetable chopper, food chopper and chopping board. Replace all your kitchen knives and cutlery with one easy to use device. Locking safety hinge helps prevent accidental cuts. Dishwasher-safe for easy cleaning.
Features:1. Great style you'd prefer.2. High quality.3. 2-in-1 knife and cutting board.4. Ergonomic grip is easy on hands.5. Premium stainless steel blade.6. Quickly and safely slice foods without the messy cleanup.7. Safe, Easy, and Fun,slice fruits without the mess.8. Cutting chopping slicing the clever cutter can do it all.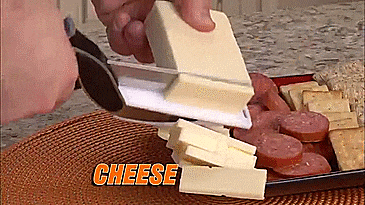 Specification:Product Name: Clever Cutter Food ScissorsMaterial: Stainless Steel, ABSColor: BlackBlade Length: above 105mm / 4''Full Length: 247mm / 10''